StateWide was organized in 1972 to achieve dignity, well being and security for all senior citizens in New York State. We provide direct service through our helpline and counseling services and provide information to educate the community as well as state and federal policymakers on issues of importance to older New Yorkers.
NEW –
Dates for Forums on Proposed Office for Community Living

Seeking public input on a proposal to coordinate Aging and Disability services through a merged state agency.
Seniors and senior service providers are encouraged to attend forums being held by the NYS Office for Aging (NYSOFA). See below for dates and times for regions across NYS.  RSVP today – seating limited.
Pre-registration is required due to space capacity. Please register at: https://www.surveymonkey.com/r/OCLforumregistration. In addition, you can also register by calling Abbey Lavazzo at (518)391-4553 or email, abbey.lavazzo@aging.ny.gov
Suffolk – September 30, 9:00-11:00a.m.         Site: call NYSOFA for info
NYC September 30, 2:00-4:00p.m.   Site: call NYSOFA for info
Hudson Valley –  October 1, 10:00a.m.-12:00p.m.  Site:  call NYSOFA for info
Buffalo -October 7, 9:00-11:00a.m.   Site:  Mt. Olive Baptist Church, 701 E Delevan Ave.
Rochester area – October 7, 1:30-3:30p.m.  Site: Call NYSOFA for info
Convention 2015
REGISTER NOW. 2015 ANNUAL CONVENTION
Get the latest information, network with others from throughout the state, enjoy beautiful Saratoga Springs.
October 13-15 – Saratoga Springs, NY
Print out the updated  Convention schedule and registration form and mail your registration with your check today!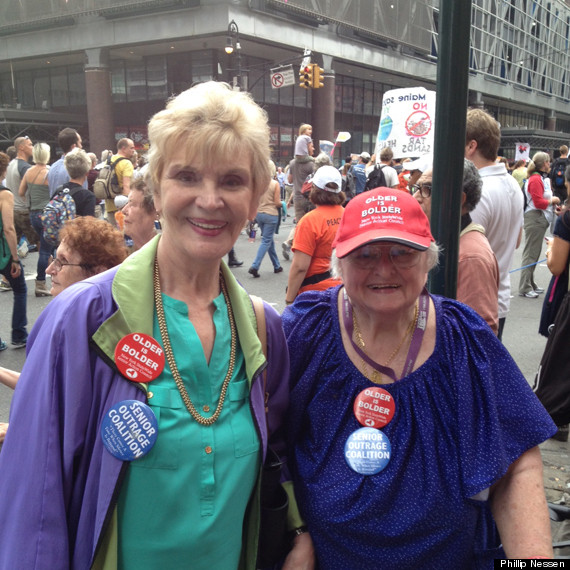 StateWide marched in the September 21 Climate Change demonstration in NYC.  The Huntington Post gave it national coverage and featured our members (l-r) Genevieve Cervera and Muriel Beach.  Read the coverage
GRASSROOTS SENIOR ADVOCACY DAY MAY 12 2015 in Albany
Seniors came from NYC, Sullivan County, Buffalo, Binghamton, Oneida,  the North Country and the Capital District to advocate for Safe nurse to patient staffing ratios and NY Health, the Medicare for All legislation in NYS.  Hundreds of seniors added their consumer voices in support of safe staffing to those of nurses represented by Communications Workers of America, NYS Nurses Association, NYS United Teachers and Public Employees Federation.


Observation Status
StateWide Launches Patient Advocates Program.
Get Informed.  Get Involved. Share Stories.  Patient Advocates Program Telephone Teach-ins
have been scheduled.  Get more information.


StateWide Develops Hospital Patient Tool Kit. More information.
Legislation initiated by StateWide raising concerns about Observation Status was signed into law effective 2014 to require hospitals to tell patients what their billing status is.
Federal Legislation introduced! US Sen. Schumer pledges to fix Hospital Observation Status Problems facing Medicare recipients. If you have experienced problems related to Observation status, please call StateWide to share your story at 1-800-333-4374. Read more.
Problems cause a "coverage gap."  See the NBC news coverage.

Kaiser Health News: By Susan Jaffe FAQ: Hospital Observation Care Can Be Poorly Understood And Costly For Medicare Beneficiaries
Kaiser Health News is an editorially independent program of the Henry J. Kaiser Family Foundation, a nonprofit, nonpartisan health policy research and communication organization not affiliated with Kaiser Permanente.Susan Jaffe can be contacted at Jaffe.KHN@gmail.com
Help with Medicare and EPIC
EPIC (Elderly Pharmaceutical Insurance Coverage) Program NEW – EPIC income limits have been raised, thanks to the State Legislature and the Governor's agreement during budget negotiations in 2014.  NOW – Individuals Earning up to $75,000 and couples earning up to $100,000 are eligible!   Wondering if you're eligible for EPIC? See Eligibility Guidelines. Call 1-800-333-4374 with any questions.
Help with Medicare and affordable prescription drugs is just a phone call away. StateWide's Medicare counselors can help you make adjustments if your health plan is not meeting your needs in 2013. Call 1-800-333-4374.
Learn more about Medicare
Video Overview of Medicare Choices
Overview of Open Enrollment